Ian's Story
I am married with four children and am fortunate to live in rural Wales. I enjoy music, reading, gardening, walking and cycling. I also love my work and am very driven to make a difference. For as long as I can remember, I have been one of those people who have got stuck in and tried to make things better. As a consequence, I have packed a lot into my life, not all of it conventional.
My first taste of responsibility was running the 6th form coffee bar in my London comprehensive school. While studying chemistry at Exeter University, I was elected Treasurer of the students' union and was a leader of a campaign against the imposition of tuition fees for international students. This gave me experience of speaking to large public meetings and winning their support for action.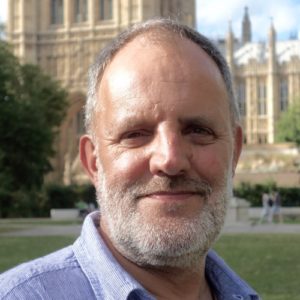 Graduating into Thatcher's Britain, I worked in advertising and marched against cruise missiles, racism and neo-liberalism before leaving the UK to live and work in Jordan, where I ran a training company and set up a media agency specialising in Palestine.
On coming back to the UK, I ran a development education centre before joining Oxfam. Starting as a local campaign organiser setting up and supporting local Oxfam groups in Devon & Cornwall, I was promoted to Area Director, responsible for all Oxfam's shops, fundraising, campaigning and education work in the south-west of England. An internal restructuring saw me given responsibility for an expanded region (but without the shops) as Regional Campaigns Manager. A further promotion took me to head office in the new role of Campaigns Manager, where I transformed Oxfam's campaigning, bringing together teams from policy, communications and activism departments alongside programme and fundraising staff to develop and coordinate several successful international campaigns. Achievements included getting several major UK clothing retails to adopt codes of conduct on labour rights for their supply chains, getting government backing for the Ethical Trading Initiative, the adoption of an EU Code of Conduct on Arms Sales, and setting up the Global Campaign for Education.
I have a passion for learning, and it was while I was working for Oxfam that I studied part-time for an MBA with the Open University. In addition to the standard modules in people management, finance, HR and information systems, I took specialist modules in strategy, creative management, managing development and managing international enterprises. What I learned was even more valuable than I expected, being able to apply it to so many aspects of my professional life. Since then, I have continued to extend my theoretical and practical knowledge about social psychology, systems thinking, communications theory and other relevant disciplines. I always try to reflect on what I and others have done to harvest the learning from that experience, and look at the evidence of what works rather than making simplistic assumptions.
In 2000, I left Oxfam to become a consultant, working as The Pressure Group. To begin with, my clients were mainly international development NGOs – the sector was I was best known – but this broadened out to include other types of charities, campaigning groups and public sector organisations. I have been hired by over 100 organisations and worked in more than 60 countries. My main roles as a consultant have been to design and facilitate planning processes and to provide training and capacity building (delivering about 400 workshops to over 5,000 people).
In 2003, I took a six-month break from consultancy and joined the International Secretariat of Amnesty International as its interim Director of Media and Audio-Visual Programmes, where my responsibilities included managing a large press office, leading the global media team and the launch of its global campaign to Stop Violence Against Women.
I have been involved in many voluntary activities. In 2007, having been active as a dad in my local NCT group, I was elected as a trustee of the National Childbirth Trust, and was made Chair the following year, overseeing a restructuring of the governance system to clarify roles and improve effectiveness.  As my children grew older, I qualified as an FA Football Coach and coached my son's teams. In 2017, I was a candidate in the UK general election for the Green Party.
Through my experience of working with a wide range of nationalities and cultures and with people with visual impairments and other disabilities, I recognise the needs of different groups. I celebrate diversity and am sensitive to issues of power, privilege and gender.
My focus is on achieving real and sustained impact. Both as a manager and as a consultant, my priorities have been participation, ownership and empowerment.
When the best manager's work is done, the people say they did it themselves